When CSE's longtime client, Simformotion™, heard from its customers that they needed compact and portable simulators due to the challenges of a global pandemic, engineers hit the drawing table to design simulator hardware that can be set up in socially distanced stations or travel offsite with learners. Simformotion, the licensee for Cat Simulators for Caterpillar Inc., then turned to CSE Software to develop the simulation training that would run on the new SimLite hardware.
CSE's simulation software engineers, testers, account manager and project manager each took an important role in the success of the project. Most important, they worked towards an aggressive deadline and with the subject-matter experts at Simformotion and Caterpillar to get precise outcomes for the machine training exercises to ensure the entire environment replicated a real-world worksite.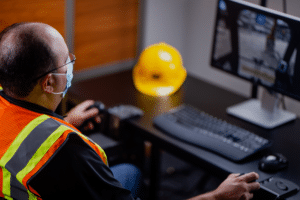 CSE Software met all milestones and in a quick 8 weeks the new simulator was launched.
"The team at CSE Software are professionals and leaders in the field of simulation. They helped us define a project that met our vision and needs. We set a tight deadline for launching SimLite Excavator and CSE did not disappoint. Because we were able to meet the launch date, we were able to make our first sale almost immediately," says Vanessa Price, director of Simformotion.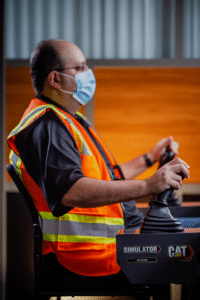 The simulated machine is based on Caterpillar's line of Excavators. SimLite Excavator teaches learners to operate in a city construction environment and includes foundational applications that the learner can master through practice using OEM controls. In addition, each training exercise records and reports the results of learner simulation sessions through built in record-keeping. Learner outcomes and progress can be tracked during simulation to find out how production, safety and maintenance are impacted by operators.
VR Edition is an optional accessory. Built with patented VR NOW™ technology, the user can experience greater depth perception and become fully immersed in the environment and techniques when the system is engaged.
To find out how you can develop simulation and VR training for your organization, contact CSE today!