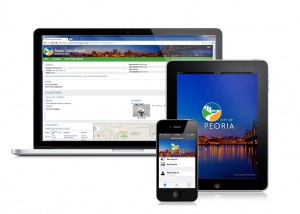 CSE Software, an IT company known for problem solving with technology, is proud to announce the development of the Peoria Cares iOS app and Peoria Cares uReport web application.
The mobile app allows citizens to request city services or report community issues via their iPhone, iPad or the City of Peoria website. From potholes and graffiti to snow removal needs, citizens may create and submit various reports and include a photo and address of the issue.
All cases submitted via Peoria Cares are managed within the Peoria Cares uReport web application, which automatically emails the case details to the appropriate city department. City employees are then able to use the system to manage and resolve projects. For example if graffiti is reported, the appropriate department is automatically notified of case details, then must resolve the issue and report on its resolution. Citizens are also able to access the uReport system to view current cases and their status.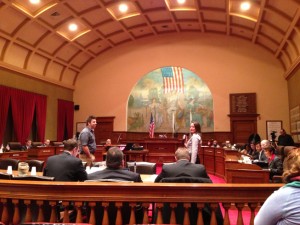 On December 10, CSE Vice President Renee Gorrell and Multimedia Developer Nick Striegel unveiled the Peoria Cares app and uReport web application at the Peoria City Council Meeting. Mayor Jim Ardis said, "We have seen a lot of exciting things happening with our partnership very early on that have taken us a huge step forward in terms of communication with constituents and tax payers, and also allowing them opportunities to communicate with us."
Download the Peoria Cares app for free at the Apple App Store. Citizens without a mobile device can also submit cases via the City of Peoria website at http://www.peoriagov.org/peoria-cares-ureport. For more information on the development of mobile apps or web applications; or to see a demo of the Peoria Cares app and Peoria Cares uReport web applications, contact Annette Bailey.
About CSE Software
CSE Software Inc. specializes in multiple IT services and custom developed software and simulation solutions for many industries, including heavy equipment, healthcare and education. As used herein, "CSE" or "CSE Software" means CSE Software Inc., an Illinois corporation.