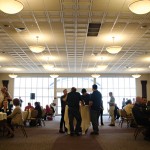 What CEO Ken Pflederer started in 1990 as Computer Skills Enhancement has grown beyond his initial vision to say the least. CSE Software Inc. evolved long ago from basic training classes into custom developed software and a variety of integrated IT services. The company is still climbing the heights of success, thanks in no small part to the man who "surrounds himself with smart people and doesn't get in their way." That success was on display Thursday night at the CSE Software and Simformotion Open House, held in their new Maxam building location in downtown Peoria, Illinois.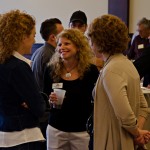 Pflederer and business partners Lara Aaron and Renee Gorrell began the afternoon with a special VIP tour with local dignitaries. By the time the tour ended, the three were greeting both tenured and new clients along with friends and family at the event. The opportunity to show off the new location and the array of growing services to visitors from the Peoria area topped off months of construction and a major move.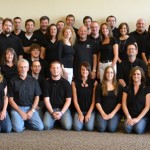 Employees manned stations around the third floor office to explain and show off CSE services such as custom development, eLearning and mobile app development, modeling and simulation development, help desk support and fulfillment services. Then guests were ushered to the second floor for drinks, hors d'oeuvres and music. The team from sister company, Simformotion LLC, which is the arm that engineers, manufactures and sells training simulators, set up a dozer simulator for visitors to test drive. The 3D simulation software is developed by CSE's Serious Gaming Development Team. Through the technology of simulation, visitors were able to experience dozer applications just like they would on an actual worksite.
View local news coverage of the Open House by clicking here.
If you missed the CSE Open House and would like to find out more about any of our services, contact Christy Beiermann at 1.309.670.7595.
As used herein, "Simformotion" means Simformotion LLC, a Delaware limited liability company.