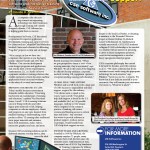 CSE Software Inc. was recently featured in The Marketeer magazine.
For more than 20 years, CSE has been a leader in the technology sector. Find out why the company's versatile services, and its founding father's simple philosophy, has given them staying power!
Click the image to read more, or click to download a PDF copy.