Growing Pains to Gains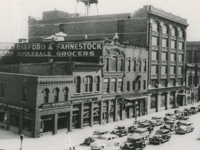 CSE Software has as solid a foundation as the downtown Peoria building it recently moved its businesses into. When the Oakford family built the grocery warehouse in 1916 (the building now known as the Maxam) they couldn't have possibly imagined that a tech firm would someday occupy its third and fourth floors.
History Unfolds
Founded in 1990 by president Ken Pflederer, CSE began as "computer skills enhancement," teaching people how to use their computers. The company quickly evolved into software and eLearning development, web and database development, service desk support; and most recently simulation software and mobile app development. In addition, Pflederer gained two business partners, Vice Presidents Lara Aaron and Renee Gorrell.
In 2009 sister company Simformotion™ LLC was founded to handle the design, manufacturing and sales of simulators when Caterpillar awarded the company the license for Cat® Simulators. Much like flight simulators train pilots, heavy equipment simulator systems are used to train operators before they run the actual machines.
Both CSE and Simformotion were growing, but the space at Morton's Field Shopping Center wasn't. After 21 years in the same location it was time to look for a larger space to move its growing businesses.
Location, Location, Location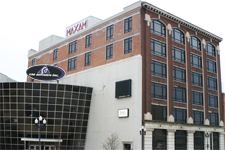 Mike O'Bryan with Re/Max showed Pflederer, Aaron and Gorrell dozens of properties around the tri-county area before the downtown Peoria location was chosen. Only visionaries could have imagined what the Maxam space could eventually become. Luckily the team at CSE is used to thinking creatively. The building's first, second, third and fourth floors had sat empty for six years. When the three partners purchased the site, the third floor was set up as an open banquet space and the fourth floor was unfinished. Piles of boxes, junk and papers were left by the former owners and littered both floors. The mess was little deterrent to moving into the 20,000 square feet of space. Construction dates were set in September after the closing and contractor Leonard Schmillen of Lensco began the build-out. A target date to build out the main portions of the third floor was set so the move could take place Dec 30th. Schmillen stayed on deadline.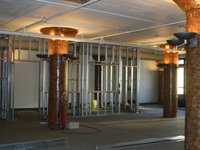 CSE Network Administrators Nick Mishler and Nic Lindsey took on the task of running 18,000 feet of wiring for the company servers and networks, in a building that was never set up for modern-day tech needs. To keep the company running 24/7/365, even during power outages, CSE's large backup generator also had to be moved and installed into its new Peoria home. At the Field location, employees packed the offices and Allied arrived with seven large trucks to make the move. The well-coordinated effort paid off. On January 2nd, employees arrived at the new location to set up offices, even though finish construction was still going on around them. By noon most everyone was unpacked, organized and working in the new space.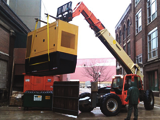 And what a space it is. The Maxam has a great vibe thanks to the exposed brick walls, tall ceilings and oversize windows. Keeping the brick as the focal point, finishes were chosen to accent their colors—a mix of cinnamon, nutmeg and ginger. A nod to the history of downtown and the Peoria area is given through the black and white historical prints that grace the walls. Working with Chris Farris, historical expert at the Peoria Public Library, the design team was able to find fabulous old images of Peoria, including the original Oakford building for printing and framing.
Today & Tomorrow
CSE has come a long way since teaching basic computer skills in the early 90's. Now client companies are diverse in industries such as healthcare, heavy equipment, warehousing, education and others. CSE projects run the gamut from custom software and mobile app development; simulator software; eLearning modules built in multiple languages; Internet and web development; to many other tech-related projects. CSE also offers other services from Service Desk Support to Simulation Software development to Fulfillment.
The CSE Service Desk Support team offers live, 24×7 global support to companies that want live customer service for their businesses—no menus or prompts. The service desk support group has taken on new clients, and it too, is adding staff.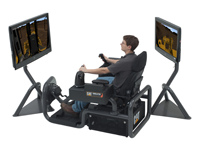 Because Simformotion is producing more simulators than ever before, the Serious Gaming development team has grown to three times its original size. Thanks to increased space, the team can now comfortably work with engineers and test hardware and software, as well as R&D for future designs, all in the same place. The Serious Gaming Development team can create simulation software to fit any environment, whether it's educational for teaching specific concepts and techniques or strictly for entertainment purposes.
Change even came to the CSE/Simformotion warehouse, located in Morton. All assembly and shipping of the simulators is done at the Morton location, so the fulfillment department was also moved to the same location. From software duplication to packaging and replication services, to prize fulfillment, the CSE fulfillment team helps our client businesses stay in contact with their customers.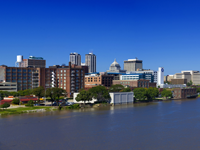 Not only did CSE find more space, it found an inspiring space to do business. It's an exciting time to be a part of downtown Peoria – especially with the museum and visitor's center coming to fruition. CSE and Simformotion have a special stake in the new visitor's center. Part of the planned display will feature four Cat Simulators. The hands-on experience will allow visitors to operate the virtual dozer and excavator. The simulators model actual machines working in a construction worksite environment. Visitors will learn how to use the controls for each machine and then perform an application just like on a real-world jobsite. It will be the closest to operating actual equipment on a jobsite that most people will ever get to experience.
Developing 3D simulation software is just one of the many solutions CSE has to offer. Ever-changing technology is an inspiration for CSE Software. Whether it's developing the latest in Mobile Apps or training simulators, CSE will be at the forefront delivering quality, budget-minded tech solutions to clients around the world.
Warehouse district photo courtesy of Kevin May.
As used herein, "Simformotion" means Simformotion LLC, a Delaware limited liability company.