Training is a crucial part of any industry. The correct and safe methods of practice play a vital role in enhancing the productivity and performance of the workforce. Especially in the construction industry, where heavy equipment is involved, the adoption of safe training methods becomes a necessity. With the addition of new technology and equipment every day, companies must ensure that their employees adopt and use them properly. Catering to these needs is Illinois based CSE Software® Inc. and sister company Simformotion™ LLC that design, engineer, develop, sell and support technology solutions for training, including simulators and VR products. In discussion with CIO Applications, Renee Gorrell, CEO and President of CSE Software and Vice President of Simformotion (and co-owner of both companies), shares how the technology companies have found a niche in the construction industry providing effective training solutions.
Could you elaborate a little on the background of the company? Conception and journey so far.
Ken Pflederer founded CSE Software in 1990, and since then, we have been involved in machine and device training. His philosophy and passion for serving the customers with "whatever it takes attitude" has led to the growth and success of the company (Simformotion was founded in 2009). We started working with large-scale clients like Caterpillar and OSF Healthcare, and through the years, added more. We have been developing software, hardware and creating technology solutions for the construction industry for about 30 years.
How do you provide solutions for simulation and augmented or virtual reality training?
Because the skilled labor is retiring and the younger generation is less interested in construction work, it has created an enormous knowledge gap. To fill this gap and adopt safer ways to train new talent, the industry is now moving to technology solutions. We can create any training solution that a customer wants. In our current simulator line, we have 16 different models, including one in the agricultural space. But if those don't match the customer needs, we create new ones that fit their requirements. Simulators enable clients to ensure that their employees are well prepared to operate actual machines. Employees can complete their training on the simulator safely, and when they move to the iron, they know how to operate correctly, which enhances productivity.
We work with OEM's so that the controls are exactly what the user will see once they get on the machine. They learn to operate each machine virtually. This makes the transition to real world application seamless and the learning process smooth. For example, it teaches the learner how to safely excavate a trench or operate a dozer to push over a highwall safely. Each learner gets the opportunity to work with virtual expert operators to develop their skills through the simulated exercises.
Please brief us about the process that you follow while building engaged and customized simulation experiences for the construction industry.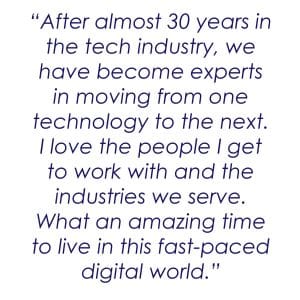 The process starts with the customer. We discuss every detail of the project with our clients to understand their unique requirements. Our developers, hardware engineers and quality control department inspect the machine being simulated to understand the customers' needs better. We write project definition to make sure each team member and the client understands what we envision to deliver. We set milestones and test throughout the project. We follow the same process every time, regardless of which machine or device we are working with.
Could you shed some light on the different device simulations that you provide and the mobile applications that you develop for iOS and Android devices?
Traditionally, training was in an LMS done by clicking the "next" buttons on a PC, which isn't well retained. Creating more engaging technology, such as a mobile app, on a platform that everybody has access to, such as a smart phone or tablet, helps people to retain knowledge better. Employees are more engaged with the interaction and that's the key to retention. When a full simulator or VR experience is not needed, we can develop device simulations for smaller equipment. We've done this in the healthcare industry more than anyplace else.
Could you share a case study or a success story where you helped your clients in attaining what they wanted?
We are working with companies that want to make cultural changes. Caterpillar Safety Services is helping companies make this shift by providing tools like Cat® Safety VR in conjunction with a lot of other instructor-led training.  CSE developed Cat Safety VR — a collaborative effort between Cat and Colas.  It is training for new employees working on highway construction. Workers are immersed in the virtual world, standing next to a road where cars are going 60 miles per hour. They learn to safely interact with the other people in their huddle alongside a highway. In another of the situations, a person is on a cell phone and has to be called out within the exercise because it is against the rules to use phones. This could be an uncomfortable conversation in real life so practicing in VR will make it easier if it comes up on the real-world worksite.
In a different example, we helped a construction company that needed to train hundreds of heavy equipment operators in a faster, more efficient way. We helped them complete that training process safely and efficiently through simulation.
What is the critical factor that keeps you ahead in the competition?
For me, it is about relationships. Being in this industry for 30 years, I've met many people along the way who wanted to be leaders as well. Hence, it also keeps us on our game. For instance, we worked with big players, such as Caterpillar, and delivered to their expectations, which has brought credibility to our work. We offer simulators and save our customers from unwanted investments in stagnant training products. Our marketing team is watching for trends and our development teams are always conducting R&D on the latest technologies that would be a good fit for our direction. Our clients want to see what is coming next to stay ahead of the curve. We attend and showcase our products in a lot of shows and conferences, including those geared toward the military like SOMA, and construction-focused shows like ConExpo, to keep pace with the trends and industry needs.
What is the next big step that the company would be taking in the next 12 to 18 months?
We are looking forward to building new relationships with construction companies and continuing to build upon the ones we already have. Over the next 12 to 18 months, we will expand our global footprint. The Simformotion sales team has already hired two new international account managers to push our global presence, in addition to our account managers in Australia, Canada and Africa.
From a leadership standpoint, we have become a women-owned company, which is unique in the construction industry. We are trying to diversify our product line in order to help fit our customers budgetary needs (there are often unrealistic expectations for what technology solutions cost). We are aggressively looking for companies to partner with in order to add technology products to our portfolio of existing solutions. We will continually develop new products in the simulation and VR space.
Read the original feature at: https://construction.cioapplications.com/vendor/cse-softwaresup-sup-simformotionsup-sup-comprehensive-simulationbased-training-solutions-cid-4253-mid-261.html