Want to train your employees using technology like AR/VR, simulations, mobile, eLearning or a web app? Great! But how do you ensure your training is compliant, effective and engaging for users? Whether you need to ensure compliance, teach medical device use to nurses or heavy equipment operation to operators, you want your training to be engaging and user-friendly.
How do you pick the right tech developer?
Experience. Choose a development company with experience. How many years have they been developing technology? Look at their portfolio for examples of work they've done. Ask about the time frames for the different types of projects. A simulation with hardware is going to take longer than an eLearning module. What kind of insights can they give you? Have they kept up-to-date on new technology over the years? Do they conduct regular R&D (research and development) to expand their body of work and skills? Look for a company with a diverse set of technical skills. The development company should also have an onsite QA testing department (separate from their programmers). Thorough testing is a must when it comes to technology. The company should be able to explain how they test and what they look for when testing any releases.
Price. Know your budget and be flexible. Don't choose a company based on price alone. The price might look good on paper, but not if you end up having to rework the project; or the company couldn't meet the deadline; or didn't have any customer support after it was released. Project functionality and features will greatly affect the budget.
Requirements. A good development company will listen to what you need. They will give you direction on the best type of development to fit that need. They will be able to explain why they are making recommendations. They will guide you to the right choice, not just a hot new technology. They will understand the number of people you need to train, the locations of use, the depth of subject-matter, and many other details that will affect the project. The developer should set milestones and show the progress along the way. You may go into the discussions thinking you wanted one thing, and the developer may be able to guide you to a better choice. That is an advantage of working with an experienced team.
Communication. Ask about the level of communication during project development. Are there people answering your emails and phone calls during the quoting stage? That will be a good indication of follow-up later on. Do they use a project manager to handle details and communications between the development team and the client while the project is being built?  A serious and experienced company will have project managers on staff that will make you a priority. They will have a process to track the work; and transparency throughout every step from the milestones to the release day.
Deadlines. What kind of deadline will the project have? Does the development company have dedicated resources on staff or is the company outsourcing work off-shore? If the company is off-shoring work it can greatly affect your timeline and customer service. You'll often get a fractured team with communication and security issues. Choose a company with experienced U.S.-based, on-site staff. Ask if the team has longevity with the company. Constant turnover can be a red flag.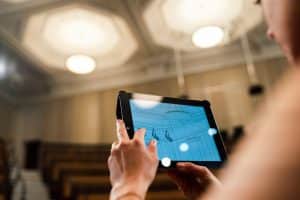 Design & Functionality. You want training that is user-friendly and works. That means design and functionality. The code has to work, and the design has to be intuitive and easy to follow. Be prepared to give a good explanation of what you want upfront, so when the development team writes the definition for the project, you can determine if it will fit your vision. Ask a lot of questions and get a clear understanding of what you will get. Ask them to show you examples of any functions you are unsure of so you can see how they work.
Support. Do not underestimate good customer support. After the training product is released, is there someone that can answer questions? Guide users if they get stuck? You need customer support you can count on. You don't want to be abandoned once the training is released.
There are many choices for development companies. It's easy to feel overwhelmed. A complete evaluation of any prospective company should include checking for experience, good communication, customer support and everything in between.
To find out more about CSE Software® and its training development, contact us today.