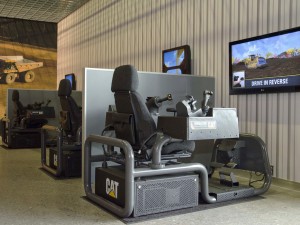 The long anticipated Caterpillar® Visitor's Center and Peoria Riverfront Museum celebrated a grand opening on Saturday October 20, 2012.
Take a look at the iron, the people making progress possible and the company behind it all at the Caterpillar Visitor's Center (CVC). Climb into the seat of a Dozer or Hydraulic Excavator via Cat® Simulators! Move dirt in a virtual heavy equipment environment and get a sample of how the real machines work. The simulators feature the same controls and seat as in the actual machines for a realistic feel of what it's like to be the operator.
The Serious Gaming Development Team at CSE Software Inc. developed the simulator software, while sister company Simformotion LLC designed and manufactured the simulator hardware for the CVC project. Full training exercises are also available for both simulator models.
The Peoria Riverfront Museum and Caterpillar Visitors Center are open from 10 a.m. to 5 p.m. Monday – Saturday.