Ken Pflederer, President, CSE Software Inc. attended the PowerMyLearning event at the Caterpillar Visitor's Center on Saturday April 26th. More than 100 local teachers attended the event. Several demos were set up, including robotics.  CSE Software, OSF Healthcare and Jump Trading Simulation and Education Center were on hand to demonstrate mobile technology and a new web-based service. Pflederer demonstrated the new Peoria Cares mobile app, developed for the City of Peoria. The mobile app allows citizens to request city services or report community issues via their iPhone, iPad or the City of Peoria website. From potholes and graffiti to snow removal needs, citizens may create and submit various reports and include a photo and address of the issue.
Also in attendance were Sabeen Admani, Simulation Engineer Supervisor for OSF Healthcare, demonstrating the MDFlyThru. This website provides a service to physicians that allows them to take 3D dimensional and "fly through" it to view the areas that they cannot see in 3D.  T.K. Khairallah, Scholar for OSF Healthcare, demonstrating the Smart Pump mobile app used to train nurses on proper use (both developed by CSE Software).
PowerMyLearning is a web-based resource designed for K-12 students, parents, and educators. Subjects such as technology, math, science and more are covered with teacher and student tools available on the site. Saturday's event was held to present the latest in technology.
Resource
CSE Software Inc. can develop training to give your organization the competitive edge. Our development team can design and deploy custom software, web applications, mobile apps, simulation, and eLearning for any industry. MDFlyThru is a new service that allows physicians to convert a file into a 3D dimensional image. Contact Casey Messenger at 1.309.202.2587 and get started today.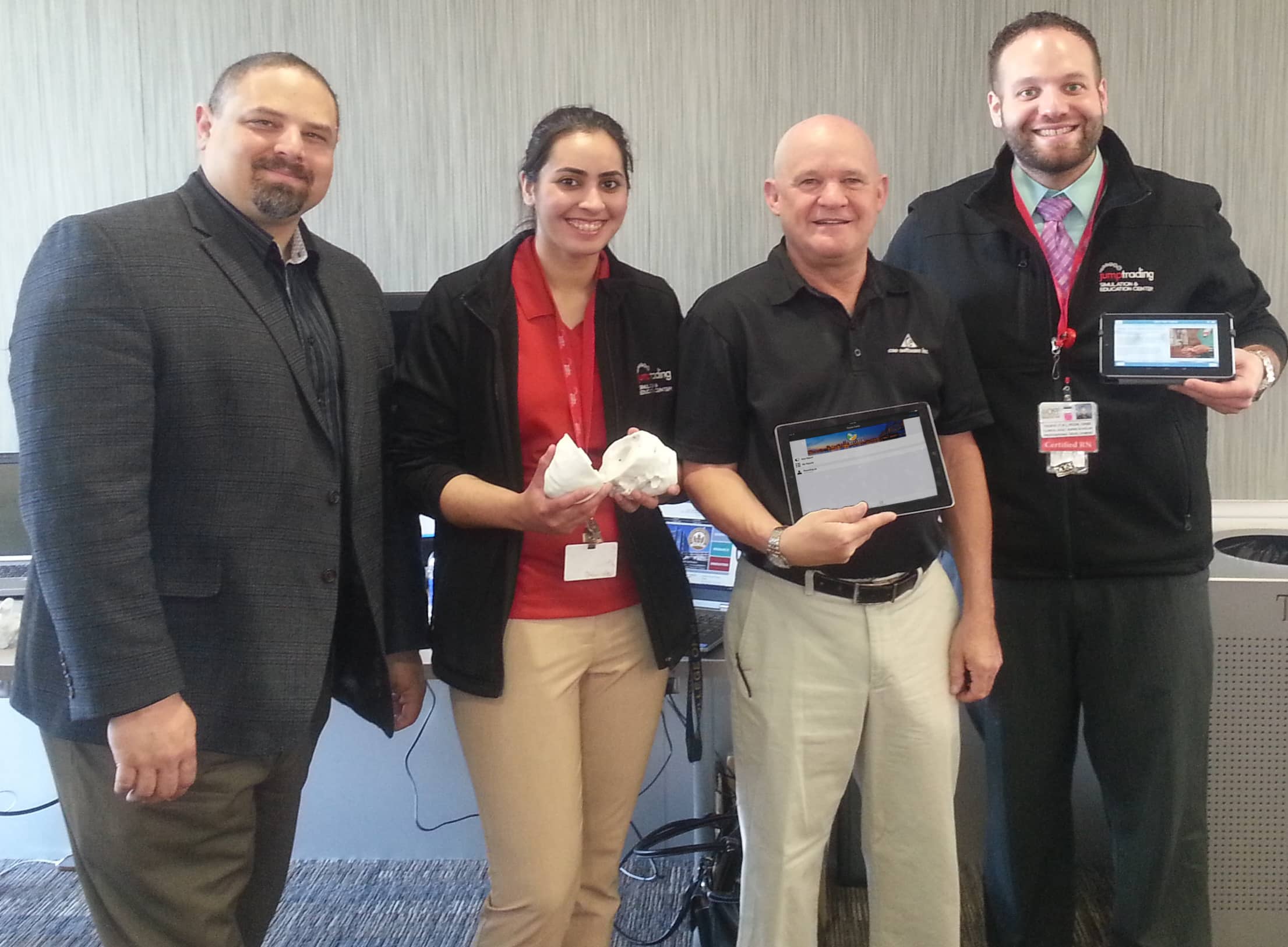 Attending and presenting at the Caterpillar Visitor's Center PowerMyLearningEvent (left to right): Dr. John Vozenilek, Chief Medical Officer for Jump Trading Simulation & Education; Sabeen Admani, Simulation Engineer Supervisor, OSF healthcare; Ken Pflederer, President, CSE Software Inc., and T.K. Khairallah, Scholar for OSF Healthcare