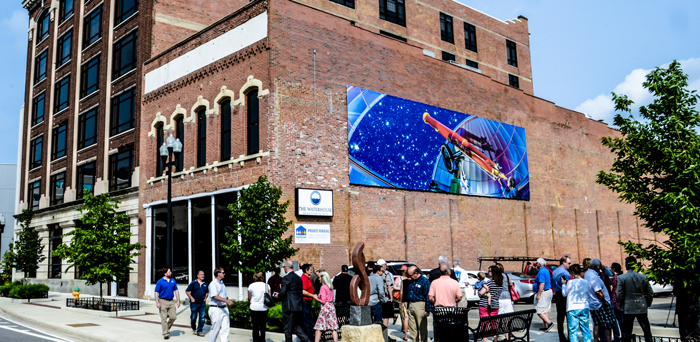 The first 48' art mural was unveiled at the MAXAM building, 316 SW Washington St., Peoria, Ill., on Thursday evening June 25th. A gathering of artists and guests were present. Resident businesses of the MAXAM generously sponsored the artwork, including CSE Software™ Inc.
The work, printed by Adams Outdoor, is entitled "Look to the Stars" (2015), a light painting created by Doug and Eileen Leunig. "Look to the Stars" is symbolic of the quest to know the unknowable. People have looked beyond themselves for centuries to find the answers to the questions about their lives and our universe. "Look to the Stars" represents the desire to explore, to discover, and to achieve the unreachable. The telescope is a symbol of the groundbreakers in society, the leaders who take us to new breakthroughs and innovative ways of thinking. The image was chosen specifically for the MAXAM building because it best represented the groundbreakers in the Warehouse District charting a new course for others.
The image by the Leunigs is dedicated to the Peoria Astronomical Society and depicts Northmoor Observatory, located within the city of Peoria at Donovan Park, and houses a nine-inch refractor telescope. The telescope was one of two built in 1913 for the Illinois Watch Company of Springfield, Illinois. In 1955, it was placed at the Northmoor site where it still stands. The observatory underwent a major renovation in 2009, and a new rotating dome was installed in place of the original rusted dome.
CSE Software supports and celebrates the arts in the Peoria area. Additional sites in the Peoria Warehouse District will display art for businesses, visitors and residents.